This post, poppets and pumpkins, comes at popular request.
Many of you seem to have realised I have a particular penchant for a certain crystal distillate. Called 'Mother's Ruin' in past millennia (RELAX MOTHER! I am not talking about Crystal meth!), I am of course talking about … GIN.
I do like my gin, and I have made a concerted (concentrated?) effort to familiarise myself with many versions, brands and gin-based cocktails. So much so, it seems, that I'm now being asked for recommendations. So in the spirit of the day, (aha! see what I did there?) I'll share what I know with you here. And then perhaps you'll join me for a drink sometime soon?
First, the 101 of Gin.
 Gin is a spirit which derives its  predominant flavour from Juniperus communis (juniper berries, at left).
The name gin is derived from either French genièvre or the Dutch jenever, which both mean…yep, "juniper".
There are many different styles of gin, as any liquor store shelf will attest to. In the EU, the following classes are recognised:
Juniper-Flavoured Spirit Drinks - The Vodka Cruisers of gin, this category represents the earliest class of gin, which is produced by pot distilling a fermented grain mash to moderate strength (e.g. 68% ABV), and then redistilling it with botanicals to extract the aromatic compounds.
Gin - The Homebrand of gins, this is a juniper flavored spirit made not via the redistillation of botanicals, but by simply adding approved natural flavouring substances to a neutral spirit. The predominant flavor must be juniper.
Distilled gin - Getting there! Distilled gin is produced exclusively by redistilling ethyl alcohol of agricultural origin with an initial strength of 96% ABV in stills traditionally used for gin, in the presence of juniper berries and of other natural botanicals, provided that the juniper taste is predominant. Gin obtained simply by adding essences or flavourings to ethyl alcohol of agricultural origin is not "distilled gin".
London gin - AHA! We have arrived! London gin is obtained exclusively from ethyl alcohol of agricultural origin with a maximum methanol content of 5 grams per hectolitre of 100% ABV equivalent, whose flavour is introduced exclusively through the re-distillation in traditional stills of ethyl alcohol in the presence of all the natural plant materials used, the resultant distillate of which is at least 70% ABV. London gin may not contain added sweetening exceeding 0.1 gram of sugars per litre of the final product, nor colorants, nor any added ingredients other than water. The term London gin may be supplemented by the term "dry".
Gin doesn't just taste of water and juniper. That would be quite foul, actually. Many different botanicals and/or flavouring agents are often added to gin at different stages of distillation. Most commonly, these include citrus elements, such as lemon and bitter orange peel, as well as a combination of other spices, which may include: anise, angelica root and/or seed, orris root, licorice root, cinnamon, almond, cubeb, savory, lime peel, grapefruit peel, dragon eye, saffron, baobab, frankincense, coriander, grains of paradise, nutmeg, cassia bark, and general deliciousness.
And now, a little History Lesson.
As with some many great things in history (Pizza, Catholicism, Prada and Berlusconi), we owe gin's origins to the Italians. In the 11th century, Italian monks flavoured crudely distilled spirits with juniper berries. During the Black Death, the drink was used as a remedy. (It didn't work, in case you were wondering. God knows why.) As the science of distillation advanced from the Middle Ages into the Renaissance period, juniper was one of many botanicals employed by virtue of its perfume, flavour, and purported medicinal properties.
Distilled gin we owe to the Dutch. Indeed, they have contributed something genuinely useful to the modern world. Who knew? The Dutch physician Franciscus Sylvius is credited with the actual invention of gin. By the mid 17th century, numerous small Dutch and Flemish distillers (some 400 in Amsterdam alone, by 1663) had popularized the re-distillation of malt spirit or wine with juniper, anise, caraway, coriander, etc., which were sold in pharmacies and used to treat such medical problems as kidney ailments, lumbago, stomach ailments, gallstones, and gout. [See! I knew there was a good justification for drinking the stuff! Begone red wine! It's gin for me!] Anyway, gin was found in Holland by English troops who were fighting against the Spanish in the Eighty Years' War and noticed its calming effects before battle, which is the origin of the term "Dutch courage".
Gin emerged in England in varying forms as of the early 17th century, and at the time of the Restoration, enjoyed a brief resurgence. When William of Orange, ruler of the Dutch Republic, occupied the British throne with his wife Mary during the Glorious Revolution, gin became extremely popular.
With so much glorious history, you'd wonder why Gin has a ruinous reputation right? Well…
Brief poem seen circa 1940, anonymous:
"The principal sin, Of Gin, Is, among others, Ruining mothers".
Gin became popular in England after the government allowed unlicensed gin production and at the same time imposed a heavy duty on all imported spirits. This created a market for poor-quality grain that was unfit for brewing beer, and thousands of gin-shops sprang up throughout England, a period known as Friday Night the "Gin Craze". Because of the relative price of gin, when compared with other drinks available at the same time and in the same geographic location, gin became popular with the poor. Of the 15,000 drinking establishments in London (not including coffee and hot-chocolate shops) over half were gin shops. By the 1720s it was estimated that a quarter of the households in London were used for the production or sale of gin. Beer maintained a healthy reputation as it was often safer to drink the brewed ale than unclean plain water. Gin, though, was blamed for various social problems. Mass drunkenness became serious. We're talking Jersey Shore-style serious. Panicky attempts by the government to prohibit gin production, such as the Gin Act of 1736, resulted in massive illicit distilling and the cynical marketing of "medicinal" spirits with such fanciful names as Cuckold's Comfort and My Lady's Eye Water. The reputation of the two drinks is most famously illustrated by William Hogarth in his engravings Beer Street and Gin Lane (1751) – above. This negative reputation survives today in the English language, in terms like "gin mills" or the American phrase "gin joints" to describe disreputable bars or "gin-soaked" to refer to the English drunks, and in the phrase "mother's ruin". Unsurprisingly, given the Gen-Y propensity to reinvent anything that reflects our collective Death Wish, the "negative" connotations of gin are now being marketed as 'retro'- with the resurgence of gin, upmarket bars now frequently refer to "mother's ruin" and there are "gin palaces" a plenty, often with printed copies of Hogarth paintings on the walls.
Clockwise from top: 
Gin Palace, NYC; Gin Palace, Melbourne; Gin Palace, Dublin.
Jump forward to the 19th century, a style of gin referred to as Old Tom Gin, which is a sweeter style of gin, often containing sugar was popularised. Old Tom gin faded away by the early 20th century.
The arrival of the Victorian era in England in the  1850s ushered in a low-key rehabilitation of Gin's reputation. Old Tom was replaced by London Dry, produced thanks to the newly invented column still (1832), making the distillation of neutral spirits practical.
Genteel middle-class ladies sipped their sloe gin (gin flavored with sloe berries) while consulting Mrs. Beeton's Book of Household Management (a wildly popular Victorian cross between the "Joy of Cooking" and Martha Stewart lifestyle books) for Gin-based mixed drink recipes. The British military, particularly the officer corps, became a hotbed of gin consumption. Hundreds of gin-based mixed drinks were invented and the mastery of their making was considered part of a young officer's training. And you wonder why Britain lost it's Empire?
A Side Note: The Gin and Tonic
It is impossible to find a more quintessential pairing across any spirit category than gin with tonic, ice and a slice.
The history of the G&T, so the lovely people over on The Gin Blog report, goes back to the the East India Company and British colonial India, when the British troops would mix their medicinal quinine tonic, which tasted very bitter, with gin to make it more palatable. The tonic contained very large quantities of quinine to treat malaria. Incidentally, it caused blindness and hearing loss but you know… mother's ruin and all.
This wasn't the first time quinine was used to treat malaria as there are reports of its usage way back from 1631, when malaria was endemic to the swamps and marshes surrounding the city of Rome.  Large scale use of quinine as a prophylaxis started properly in the 1850s. However, the rise of the G&T as a drink can be clearly traced back to the early days of Queen Victoria and expatriates returning from the Indian colonies, now with a taste for the concoction. I was mixing these babies as a 9 year old growing up in the Colonies. If I grow up to be Queen Victoria, I'd say that's a pretty good deal.
It's impossible to say whether the addition of lime to the G&T was done to help fight off the scurvy commonly found in those on the front line or whether this has been post-rationalsed to fit with the drink's origin. The latter is more likely as the Gimlet stakes its place as the medicinal concoction originating from anti scurvy campaigns. Either way, t'was a splendid addition and now an essential element of the cocktail!
Now I'm thirsty! Fix me a drink!
What's my Gin?

We get to the fun part of our evening's entertainment, ladies and gentlemen. Choosing your gin!
For this section, I'm drawing on my own partial, prejudiced and often baseless opinions (as well as the vastly more informed opinions of the soaks over on The Gin Blog). If you don't like what you're reading drinking, go pour yourself a wine instead. Either way, please remember to enjoy Gin responsibly!
1. You always sleep in Pyjamas. Your gin is:
Something clean, classy and yet familiar. Tanqueray No. TEN is handcrafted in small batches using a unique quadruple distillation process, with the heart of the gin created in the affectionately named  'Tiny Ten' still. The gin has a full-bodied grapefruit and citrus tang to it and comes highly recommended by many bartenders as the perfect choice of gin to create Martinis. There's still plenty of juniper in the mix, but the smooth citrus finish and the relatively high strength (47.3% ABV) is what makes this gin.
2. You're a virGIN. Your gin is:
Ease into it baby. Pink 47 is a London Dry with a respectable 47% ABV but a lovely clean, flowery finish. Plus, it comes in a pinkish diamond shaped bottle. Remind you of anything?
3. You still use floppy disks. Your gin is:
Clearly, you're averse to change, so your drink is Gordon's London Dry. Possibly the most famous brand of London Dry Gin, Gordon's was initially developed in London in 1769 by Alexander Gordon. The recipe remains unchanged to this day. Triple-distilled, the gin contains juniper berries, coriander seeds, ginger, cassia oil and nutmeg. The recipe for Gordon's is known to only eleven people in the world and has been kept a secret for over 240 years.
4. You wear thick-rimmed glasses/granny jumpers/have a moustache/are generally a convicted hipster. Your gin is:
Hendrick's. Distilled and bottled in Scotland, Hendrick's is a super premium gin made with eleven botanicals and a unique infusion of rose petals and cucumber. There are a lot of cynics out there who've heard, sneered and not yet tried. Yes Hendrick's comes with a lot of creative marketing and PR ventures – but, much like Gen Y, it isn't all smoke and mirrors. With a light and refreshing taste, Hendrick's can lay claim to being one of the very best gins on the market. Serve with ice and slices of cucumber.
5. You like it hard, fast and possibly upside-down. Your gin is:
Something with bite. Bulldog Gin arrived on the scene in 2006. This London Dry is quadruple-distilled in the UK and bottled at 40% ABV. Although the juniper is noticeably present, lotus leaves, lavender, liquorice, poppy and dragon eye (a cousin of the lychee fruit) to name a few of the 12 botanicals, all play their part in creating a complex flavour profile. Slightly spicy on the palate you will find the cinnamon, cardamom and citrus leaving you with a warm finish that lingers. Intrigued?
6. You own a Safari Suit. Your gin is:
Produced by one of the oldest bottlers of single-malt Scotch in Aberdeen, Cadenhead's Old Raj is a complex gin, infused with a large amount of saffron giving it a distinctive pale yellow colour. Old Raj gin isn't for everyone (let alone because of the LUDICROUS price tag), however it will attract those who like their gins colonial-strength (55% ABV).
7. You drive a Smart Car. Your gin is:
Distilled and bottled at Thames Distillers in Clapham, London, Juniper Green Organic Gin is a thoroughly London Dry Gin, made using 100% organic botanicals. Yes, that's right, the juniper berries, coriander, savory and angelica root are distilled with certified organic grain spirit, you maddening city-slicker hippie you! Green could easily be dismissed as being a little simple and you might overlook it on a supermarket shelf. But as you're the minimalist type, the unflashy bottle label and only four botanicals may be just your cuppa. And at £17 a pop, you'd be forgiven for believing that this gin was ordinary. It's not.
8. You drive a Range Rover/go shooting/own anything tweed. Your gin is:
Bathtub Gin. The term "bathtub gin" often conjures up glamorous images of flapper girls, speakeasies and the Roaring Twenties. Some say bootleggers used to create spirits in their home using stills and then watered the liquid down to drinking strength with tap water, but had to use the taps in the bathtub as the large bottles wouldn't fit in the sink. Others say that the term comes from the bootleggers actually using their bathtubs to infuse the spirit with various fruits and botanicals (often needed to cover up the repulsive taste of the poor quality spirit itself). In reality, both of these are likely to have occurred and the "bathtub gin" name has since been closely associated with poor quality, cheap gin from that era.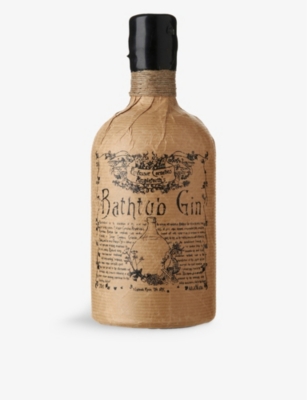 Thankfully for Master of Malt's Bathtub Gin, the quality of their ingredients today are greatly superior. Infused with 6 botanicals including juniper, coriander, orange peel, cinnamon, cloves and cardamom, the spirit is a bottled at 43.3% ABV and has a very slight hue caused by the infusion process.
On the nose warm citrus and juniper come to the fore. On the palate the gin has a slight viscosity to it and warm notes of waxy pine, gentle citrus and cardamom. The overall effect is smooth and quite earthy. Ben Ellefsen, the Sales Director at Master of Malt, explained when asked what they were trying to create that it was "a more manly kind of gin". They have achieved this in Bathtub Gin – it feels almost outdoorsy.
9. You don't drive. Your gin is:
Bombay Sapphire is unoriginal, but deservedly one of the Big Boys and is a gin for everyone who isn't designated driver tonight. Distributed by Bacardi, this distinctive gin is produced through vapour infusion: there are only a few of these types of  stills (Carterhead) remaining in the world and three are exclusive to Bombay Sapphire. During the distillation process the spirit vapour passes up through a basket at the top of the column and is delicately infused with the aromatic flavours of the botanicals. This gives a lighter, more floral gin rather than the more-common 'punchy' gins that are distilled using a copper pot still. In laymans terms, it's much like the difference between boiling ingredients and steaming them. Once the distillation process is over, the gin is blended with water from Lake Vyrnwy and is bottled at 40.0% (UK). The fact that the producers have maintained this one-shot method of production since 1761 (give or take a few changes in name and label) is even more impressive given the volume of Bombay Sapphires that are sold today.
There's a lot going on inside that nice blue bottle. Juniper, coriander, angelica, almonds, cubeb berries, lemon peel, orris, liquorice, cassia bark and grains of paradise come together to form a fresh and lively gin, lighter than classic London Dry's but with a warm peppery finish. Its slightly floral character makes for a refreshing, crisp and light G&T, perfect for celebrating how marvellous life is.
10. You just want to get drunk. Your gin is:
Tequila.
A final word on tonics:
Choosing the right tonic is as vital as choosing your preferred gin, as it is usually two thirds of the drink. (Unless I'm mixing, in which case, can't promise anything…) One of the main reasons people have a life long aversion to the G&T is because of the prevalence of poor quality tonics, warm mixers, wrong ratios etc… Thankfully, since 2005 there has been an increase in premium tonic water in the market place, with a greater emphasis on using real quinine as opposed to artificial flavouring. I'd pick Fever Tree tonic any day.
Right, and on that note, I dare say it's time to write less and drink more. Cheers!